Noritz Water Heater
Reviews & Buying Tips

(updated 2020)
Noritz water heater review and buying tips, including the best condensing, conventional and Energy Star tankless models for the efficient potable water heating and combined with space heating, in residential and light commercial applications.
Check out the top Noritz tankless water heaters from EZ, CB, NRCP, NRC, NR, NC and NCC series and boilers, utilizing natural and liquid propane gas fuel. Compare the models, specs, and features and find the reviews of the best-selling models, including the error code guide for simple troubleshooting.
Noritz water heaters - Buying tips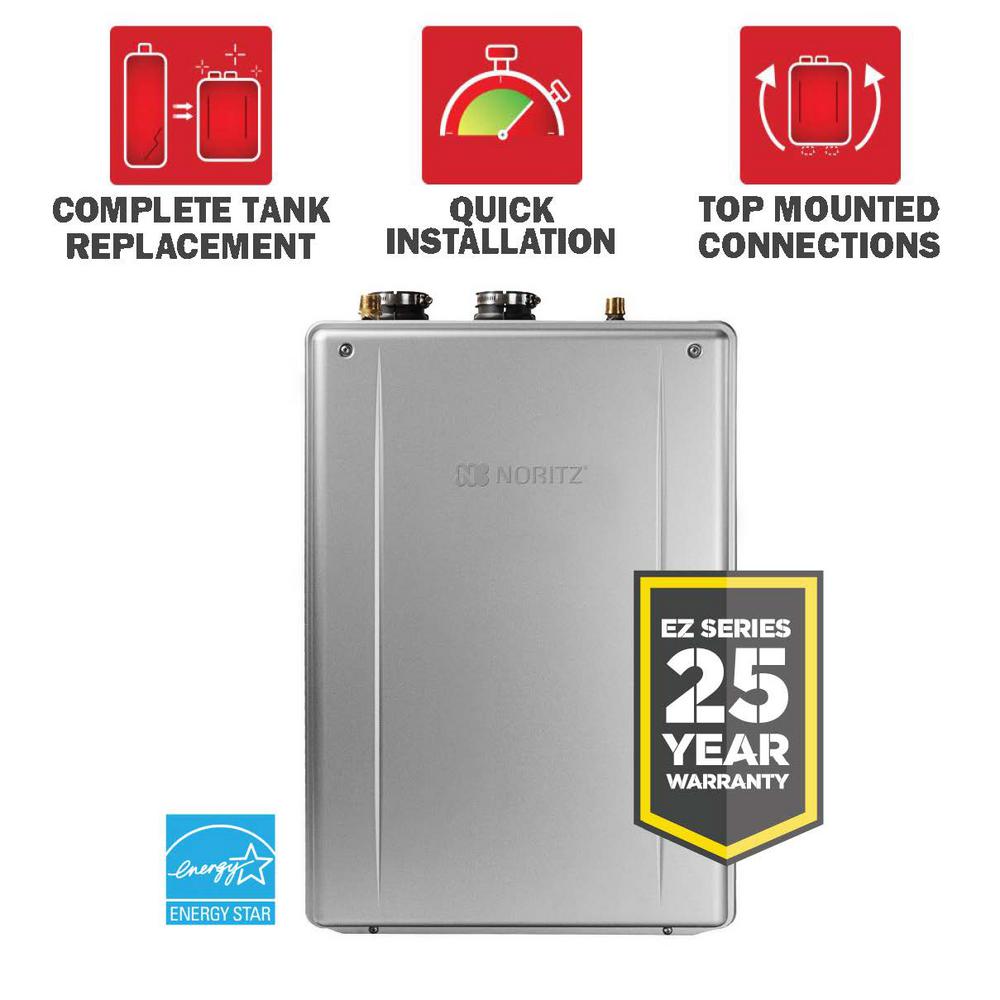 Noritz water heater manufacturer carries a variety of gas operated on-demand water heaters that are environment-friendly, utilizing advanced and green technology and resulting in energy and space conservation.
Using the finest and superior technology, Noritz on demand water heaters are producing hot water with the ultra-high thermal efficiency making them Energy Star rated, with more savings available to you, when comparing to standard or conventional units.
 Advantages and benefits
Easy installation
Noritz water heaters, with its compact and small design can be installed virtually anywhere (there are restrictions also); saving you lots of space with the wall mounting installation. As they are Eco-friendly, they emit fewer greenhouse gases like CO2 and NOx, making them great even for regions with the strict emission regulations.
Models are combustion-sealed and have great advantages over atmospheric units as they are not using internal air for combustion. For the indoor models (DV), Noritz provides all the necessary vents and accessories, while for the outdoor units (OD), are vent-less.

Durable
Another great benefit of Noritz water heaters is the longevity; so less waste goes into the landfills than tank type, units are also smaller, more durable and with the high percentage of recyclable materials. Since every heater's part is replaceable there is no need to replace the whole unit when there is a malfunction; replacing the damaged part is enough.

Green technology
Advanced Noritz water heaters comes with the condensing technology which is superior and greener, because it takes the advantage of the available latent heat to provide terrific thermal efficiency of over 90%.

Safe operation
Like other tankless manufacturers, Noritz models are producing endless and almost instant hot water, especially with the NRCP models that have a built-in recirculation. Noritz water heaters are designed safe, protecting users from scalding water - thanks to the electronic system and many built-in sensors.

Plenty of hot water
Noritz water heaters are designed with the capacity and power output enough for one to five bathroom houses, where the NRCP1112 model, for example, has the water flow rate of high 11,1 GPM. If you need even more power and hot water, there is an option to link up to 24 units using the linking system, and therefore satisfy high demand applications.

Size variety
Noritz water heaters are designed for the whole-house application, and the smallest model produces 5.3 GPM which is enough for homes with one to two bathrooms, where 11.1 GPM hot water capacity is the largest on-demand unit; ideal for up to 4-5 plumbing units.
Every Noritz water heater is using minimal electricity; mainly to light the gas burner with the direct electric ignition, to power the vent and PC board which controls the system.
Simple troubleshooting
With the built-in PC board and smart technology, the heater displays one of several error codes which signalizes if there is a problem with the unit. Using details of that code, DIY handymen and plumbers can easily fix the problem.
For example, the most common problem with any water heater is the sediment buildup inside the copper piping and heat exchanger. Noritz recommends three solutions:
Flushing the tankless unit periodically
Installing a water softener
Use ScaleShield to prevent from forming
TurboFlow
Noritz tankless models utilize a TurboFlow system that allows heaters to meet any hot water demand, especially in the summer when the incoming water is warmer and when the heater automatically boosts its output to provide more flow capacity.

Dual flame burner
Some Noritz gas appliances are the only products of all manufacturers that are using a Dual Flame Burner. This dual principle element utilizes the latest combustion technology that is electronically controlled and therefore provides hot water with very low-temperature fluctuation, maximizing the heat output and maintaining high efficiency.
A dual flame burner technology uses two rows of burners, where the second one burns the unlit gases escaped from the first row burners, so the result is an increased output efficiency, stabilized (reduced fluctuations) hot water temperature and increased performance; (not available on some models).
Commercial-grade heat exchanger
Above the gas burner, water is heated in a commercial grade heat exchanger that is built from thick commercial grade copper piping, making it more resistant to stress and even durable. Condensing models have an additional secondary heat exchanger made of corrosion resistant stainless steel material.

Electronic board
With the resin-coated PC board and onboard memory chip that stores the information about error code history, maintenance and troubleshooting become very easy.

Condensing technology
Noritz condensing water heaters are performing so well because of the advanced design. Condensing units feature a dual heat exchanger that combines stainless steel and copper heat exchanger.
The stainless steel component is designed to use the residual heat from the exhaust gases to preheat the incoming water before it runs through the main, primary copper heat exchanger. The result is significant reduction of carbon dioxide and the increase of the heater's efficiency to over 90%.
Venting
Noritz heaters are designed as the indoor models (DV) utilizing single-concentric and dual venting, or outdoor (OD) which are ventless.

Model selection
As mentioned in the above text, Noritz tankless water heaters are designed to provide an endless supply of hot water, from point-of-use to whole-house applications - up to 5-bath homes. The heaters are grouped into several categories:
NRCB series – combination boilers
EZ series – allows direct tank replacement and easy installation with the top mount water connections and flexible vent that utilizes existing B-vent
CB series - combi boilers with condensing technology that deliver hot water to plumbing and hydronic heating applications
NCC series
NRCP series – condensing water heaters with the recirculation
NRC series - condensing models
NR series - non-condensing models
NC series
Best advanced models to buy
The best and most advanced Nortiz water heaters to buy for residential homes are coming from the High-Efficiency series - NRCP and NRC, a series of ultra-high efficient models that brings great benefits to the homeowners - big savings and ultra-low carbon footprint.
The best model to buy is the Noritz NRCP112, a direct vent, and tankless gas water heater, that is, thanks to the high water flow delivery of 11.1 GPM, used in large homes with up to 4.5 baths. It is available in both natural and propane gas option and is able to generate up to 199,900 BTU of power with the ultra-high energy factor of 0.92.
What makes it different and unique at the same time is the condensing technology that uses the heavy duty stainless steel heat exchanger, and internal circulation pump allowing internal and external recirculation, so the users are getting hot water faster, saving time, water and energy.
A similar model as the above NRCP112 is NRC111, with the same capacity and power, but with no internal circulation pump, recirculation modes and built-in remote control, making it much lighter and cheaper. While the NRCP112 is available only as the indoor DV model, Noritz NRC111 comes with both indoor and outdoor models.
Top affordable models to buy
The top affordable tankless water heaters to buy are coming from the conventional, non-condensing group, such as the Noritz NR series, a series with only one heat exchanger.
The NR98 model is the largest unit in this Mid Efficiency group and is able to produce up to 9.8 GPM of hot water, which is sufficient for homes with up to 3-4 baths. Even more hot water can be delivered if two units are connected using the Quick Connect Multi System.
As opposed to condensing models and its superior efficiency, the NR98 model can provide only 0.83 energy factor and maximum temperature of 140 F, which does not qualify them as the Energy Star products.
Noritz NR98 comes with the three venting options; direct vent concentric - DVC, single vent - SV and outdoor - ventless. As opposed to the condensing models, cheaper PVC venting cannot be used on the indoor model NR98-DVC, as the exhaust temperature is higher.
About Noritz
Noritz is one of the most popular and biggest Japanese manufacturers of water heaters that is producing appliances for heating from 1951, for both residential and commercial use.
With a capacity of 1.3 million water heaters per year, Noritz is number one in the world for the production of on-demand gas appliances. The company claims to have the largest manufacturing plant of tankless water heaters in the world.
Noritz America Corporation was established in 2001, and it offers a variety of tankless water heaters for residential and commercial applications.
Noritz America headquarters is located in California with several branches throughout America; Atlanta, Chicago, Dallas, and New York and many certified dealers and trained installers.
Contact
Noritz website: noritz.com
Related articles
Get FREE quotes for your Noritz water heater repair!
Noritz review
Noritz NRCP series
Noritz NRC series
Noritz NR series
Noritz error codes
Noritz vs Rinnai vs Takagi
Leave a Comment!
What Other Visitors Have Said